Hello all!
Some people have wondered about my parents and their time in Uganda and what they're doing. So here you go:
Uganda is a gorgeous African country with wonderful people and a thriving church. However, like most countries, there are troubles. One, there is a lot of poverty. Also, there is corruption in medical areas. For example, doctors and nurses will leave a patient to die (quite literally) if they are not first paid and likely bribed as well. On the flip side, if money is not demanded prior to treatment, many patients would not pay anything after treatment is given. Another trouble is a negligent, unkind, undertrained and ultimately traumatic medical system for when women give birth. The maternal and baby death rates are awful.
Therefore, Mom and Dad have been willing to uproot their comfortable lives here in the states to be facilitators for a group trying to build a Women's Health Clinic in Uganda. The clinic will serve local women and also be a prototype of improved maternal care. At this time, my parents have worked to make the house on the clinic property livable. This project is finished, though water, electricity and mosquitos are still a problem. Also, the clinic property is properly fenced and gated, a reputable contractor has been located and plans for the clinic are being reviewed, modified, reviewed, and modified again as counsel is sought and taken. The process is very interesting! There are so many details.
Anyway, this project is not fully funded. Many people are standing behind the project, including our family, and if God wills, more will come alongside. If nothing else, I am honored to be gaining the heritage my parents continue to create as they serve God and others above themselves. We are blessed through them as we witness the good friendships that have been developing. A number of small gifts of food and clothing and medical payments have gone through them as they witness situations and give whatever they can. I know that I and they covet your prayers for wisdom as they go about each day.
Here are a few links and pictures if you'd like to stay in touch:
The "umbrella" ministry is a small non-profit called Next Generation Ministries. This medical clinic is not their usual ministry, but they are excited to see it beginning. (Donations can be made via paypal or by check)
Facebook page for the Women's Health Clinic
Mom and Dad's blog (in case they decide to begin updating it again in all their *cough* free time)
A picture of Mom and Dad walking into a courtyard in Uganda after church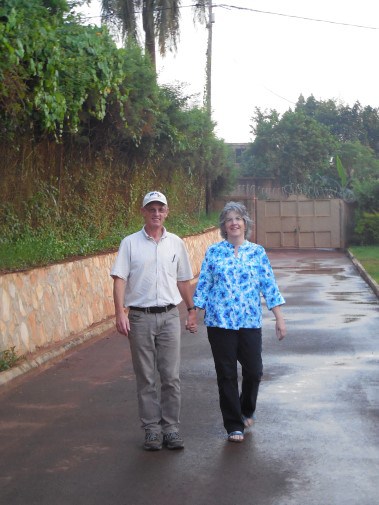 vs.
A picture of Mom and Dad walking down a hill in the rain in the US when they visited in April!